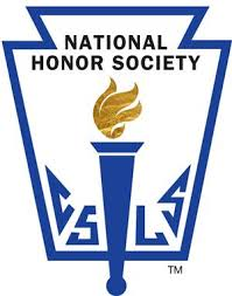 The National Honor Society (NHS) is the nation's premier organization established to recognize outstanding high school students. More than just an honor roll, NHS serves to honor those students who have demonstrated excellence in the areas of scholarship, leadership, service, and character.

You can be selected your sophomore, junior, or senior year. To be considered for membership, you must have a cumulative GPA of 3.5 or higher. Selection will then be based on your leadership, service, and character.

NHS manages the recycling containers here at school and we sponsor a community blood drive.

The Horton High School National Honor Society selection process occurs in January and February. Here is some information about this process.

First, National Honor Society is not a scholastic honor roll. There are four governing principles: Scholarship, Leadership, Service, and Character. Members selected should rate highly in all of these areas. The selection committee uses the following criteria when considering all eligible students.

Scholarship
Sophomores, Juniors, and Seniors who have a minimum cumulative grade point average of at least 3.5 are considered for membership. Consideration, however, does not guarantee selection. A candidate barely meeting the minimum scholastic standards would have to rate high in the other areas to be selected for membership.

Leadership
Leadership is figured both on the basis of offices held and on observed leadership. The students provide information on offices held. A non-officer who demonstrates leadership in the classroom, team, or club, may rate higher than one elected to an office who does not provide the needed leadership for that office. The student who exercises leadership demonstrates initiative in promoting school activities and is a forerunner in the classroom, at work, and in school or community activities.

Service
Service is generally defined as being a contributing member of an organization that improves the school, church, or community. A candidate should work well with others and should be willing to take on difficult or inconspicuous tasks. The student who serves volunteers dependable, well-organized assistance and is willing to sacrifice to offer assistance. Of course, service and leadership are closely related. One cannot lead without serving.

Character
Character includes positive aspects such as honesty, responsibility, fairness, courtesy, tolerance, and cooperation. The student of character exemplifies these desirable qualities and demonstrates them both inside and outside of the classroom.

All four criteria are interrelated. Membership is granted to candidates who the Faculty Council feel rate highly in all these criteria. Students are selected by receiving a majority vote from the Faculty Council. Selection to the National Honor Society is and must be a subjective process. The selection process is not perfect because of the subjective nature of some of the requirements for membership. The Faculty Council recognizes the importance of their task and hopefully parents will realize this even if they do not agree with the choices made.

After membership is granted, there will be a formal induction ceremony in March . Any questions or comments about National Honor Society should be directed to Kerrie Howard, the National Honor Society sponsor, at Horton High School.